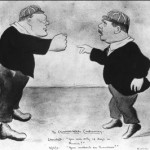 I'm on the Distribution and Interconnect Committee of the NPR board.  I made some  impromptu remarks to the board during a public session of a meeting.  It so happened  that a reporter from the trade publication — Current — was in the audience and  happened to have a tape recorder.  She transcribed and published what I said (with my  permission), and it turned out to raise some controversy from a few inside the industry,  as well as from outside.
Usually the only speakers in the "public comment" period after an NPR Board  meeting are several regional reps of stations, but they were joined Feb. 25 by Sue Schardt, executive director of the Association of Independents in Radio (AIR). Schardt spoke extemporaneously to the board and NPR execs about how public radio could address criticism that has undercut its case for continued federal aid. This is an edited transcript.
I speak as someone who has 23 years of experience in the industry. What I've been thinking a lot about lately resonates, I believe, for those of us who have been around a long time.
We have arrived at a transformational moment for public broadcasting. We must choose whether to let the forces that are coming towards us define what we will become, or to decide on our own terms what path we take.
Whether we articulate it or not, public radio, at its heart, has a feeling of being family, of having created a culture. Those of us who have worked our careers to shape and build this industry — I think I'm not alone when I say I feel as though we are brothers and sisters, we are as a family. The crisis we're facing threatens this culture we have created.
After working in many parts of public radio — both deep inside it and now with one foot inside and one foot outside — I believe there's an elephant in the room. There is something that I'm very conscious of as we consider this crisis that I'd like to speak to.