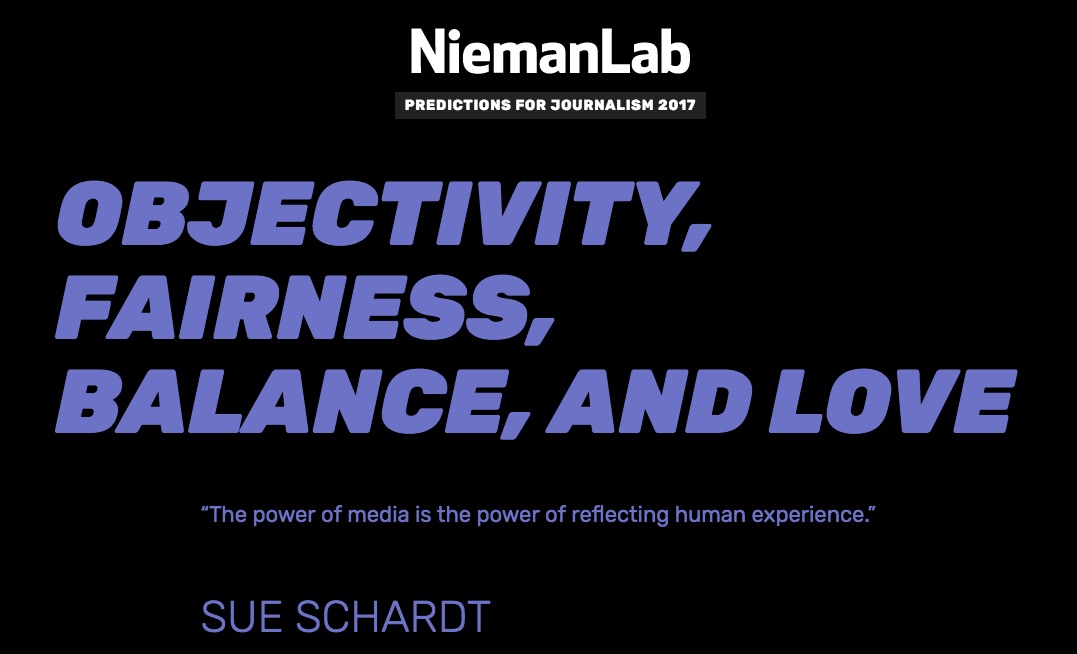 It is an extraordinary time and, as history demonstrates, times of unpredictability and flux are when tried and true forms for human expression are broken and expanded. Think Brahms, who ribboned his melodies across bar lines, shaking off the constraints of measured beats, helping to move out of the Classical and into the Romantic periods of musical expressionism. There's the painter Agnes Martin who carried her compulsive grid making over decades into pure illuminations of the ineffable – representations of "beauty, innocence, happiness," blurring the line between Abstract Expressionism and Minimalism. NPR's first Program Director, Bill Siemering who created a new magazine form he dubbed All Things Considered in 1971 and opened the way for headline news of national concern – a violent turn in a Vietnam war protest – to sit alongside uniquely defining American moments happening, for example, in a barber's chair in Ames, IA. 
Transcendent makers are as much defining of their time as they are idiosyncratic in their craft. They also have the power of giving permission and courage to others to push further and test limits.
Journalism is expanding, rules broken and remade. The sacred tenants of truth, balance, and objectivity are considered by many on all points of the spectrum to be relative, subject to interpretation. We have a stimulating flux between technological ingenuity opening space for new social and digital narrative forms and, simultaneously, a push beyond limitations of physical space, with a frontier of viable new platforms opening where people are living each day. This physical, "street" platform is rich with opportunity to change craft and change the story.
We now understand the 2016 presidential election to be a catalyst. I recently asked Tom Webster of Edison Research what he learned from their polling. He described a nation that is, not so much white or black or blue or red, but comprised of homogeneous pockets; many, many pods of one-minded people; where, for example, "not a single vote was cast for Mitt Romney in the last election." Trump's team orchestrated with precision a plan to target and be the voice for those groups who, it seems apparent, feel sidelined, who exist outside the bounds of identity politics. This understanding is helpful for those of us now determined to reflect a more inclusive American story.
Change is in the hands of organizations to some degree, but real and enduring change begins in the making of story and in the collective work of individuals who are adapting their craft across formats, technologies, and platforms. How to best direct and support the fantastic talent diaspora underway to involve ordinary people in new ways? Here are a few guideposts:
Observe & absorb. To enter new territory, a place where you don't necessarily look like those living there, or speak the same language, you must first put aside what you know. Begin, as the best documentary filmmakers do, as an anthropologist, without microphone, camera, or laptop. Enter with humility, with open eyes, hearts, and ears to discern the rhythm and flow of the place. Who are the people that make the place tick? Where are the gathering places? When you begin to see patterns emerge is your cue to start making.
The primacy of social platforms…bible study groups, circle dances, food pantries, hot dog wagons; places where people share their stories of joy and grief, their dancing, cooking, celebrating, mourning; the things that we all know make up ordinary living. This is where we will experiment with new forms of making story — in the words of Betsy O'Donovan, a former editor at AIR – with and for the people living there. Follow the work of KUT producers who are opening a new studio at the corner of 12th & Chicon in Austin, of the Digital Diaspora team one of many groups using libraries as platforms for bringing history into lives of the present, or AIR's Localorian Sophia Paliza Carre now working at WNYC as she ventures into Mott Haven in the Bronx.
Seek out "activists." The word is an anathema to "serious journalists," yet what we're learning through a AIR-commissioned study of our Finding America production is that there are individuals — trusted "activators" — who form connective tissue between story-makers and those living in pockets of the community not well served by public or mainstream media. This group is more highly educated, makes less money, are more ethnically diverse, and are deeply engaged in the "greater good." They are necessary and willing partners.
Hodari Davis, Program Director of Youth Speaks, introduced me to the concept of 'radical love.' I've since come to my own understanding of the importance – the imperative – of it in stretching the measures of craft to meet the contemporary needs of our richly diverse and complex citizenry. If openness and receptivity are necessary to achieving the inclusiveness we seek, we must be guided as much by our hearts as our discerning intellects.
The power of media is the power of reflecting human experience. If enlightenment is what we seek to deliver, it's helpful to recognize the paradox of these times; that we seek to enlighten not only to those living in those discreet pods Edison points out, but to those people already familiar with our work; enlightening them to worlds just up the road. In this way, through new platforms we open in physical space, and guided by our deepest human instincts of fairness, balance, objectivity, with the courage to love, we make story that pulls from one side, to the other…bringing disparate and divided parts of our communities together into an integrated whole. To tie. To bind. Indeed to heal.