My formidable cousin Connie loves to hunt. She'd been tracking a good-sized buck for some time out in the woods of her property in upstate New York when, she recounted to me recently, she caught up with him. She had him right in the sight of her Sako .243 rifle, finger on the trigger and, good hunter that she is, ticked down a quick mental checklist before making the shot: Feet steady, ground level? Breathing OK? … Don't hold breath! He's on top of that hill … perfect! What's behind him — a rock? Tree? No backstop!? What's the trajectory? … Uh-oh.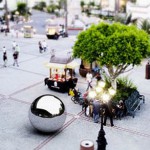 "In a moment," she told me, "I realized if my shot were to go through that deer, the    bullet might likely end up in my neighbor's living room." The deer had another day.
We were having this conversation in late August, two days after Jeffrey Johnson shot  his former co-worker in front of the Empire State Building. I asked her what she  thought about nine people getting hit by the police in the crossfire. "Situational  awareness," she matter-of-factly replied. "The cops didn't have time to think through  the situation. They had to react. If that deer had turned and pointed a gun at me, I  wouldn't have had the luxury of remembering Mrs. Bransford sitting in front of her TV set."
Telling a story is like doing an out-loud situational awareness check — minus the gun — and subject to the influence of time, circumstances, and the intention of the storyteller-mediator. It is not one thing, there is no fixed meaning, and the relative power of a story is bound to this wider context of time and place.
Right now, there is a run on storytelling in public media. We're seeing a pervasive, competitive focus that promises "reinvention" of the form — with radio as a strong generating medium, from NewsPoets on ATC to deeper, exploratory style ("The Story"), live, stand-up ("The Moth: True Stories Told Live") and, a grandparent of the live format, "Selected Shorts: Let us tell you a story"). Then there are variations on the one-hour magazine format bringing "storytelling with a beat" ("Snap Judgment") and, perhaps, the darling of all, "Radiolab." With this rush underway, "This American Life," which launched nationally in 1996, no longer stands alone as a reinvention of storytelling, though many of the newer, emergent programs echo back to it. These are, of course just a few of the many boundary-pushers working at stations, the networks and home studios across the system, comprising a whole new phase of evolution.