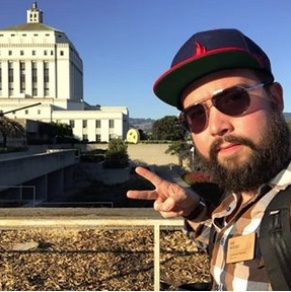 Rob Buscher is a film and media specialist, educator, arts administrator, and published author who has worked in nonprofit arts organizations for over a decade. As a person of multiracial Japanese American heritage who is deeply involved in his community, Buscher also has an expertise in cultural sensitivity training, community organizing, and advocacy issues related to the Asian American & Pacific Islander (AAPI) community.          
Buscher's expertise is Japanese and Asian American & Pacific Islander Cinema, although he has worked as a professional film programmer and critic across a variety of genres. Some of his career highlights include co- founding Zipangu Fest — the UK's premier Japanese Film Festival, creating the Japanese Cinema and Asian American Studies curriculum at Arcadia University, and expanding the Philadelphia Asian American Film Festival from a regional event into an internationally recognized leader on the film festival circuit. Buscher currently lectures at the University of Pennsylvania's Asian American Studies Program, and is a contributing writer at Pacific Citizen and Broad Street Review.

Buscher serves as president of the Philadelphia Chapter of civil rights group Japanese American Citizens League and chairs the editorial board of Pacific Citizen, the organization's national newspaper. His other board affiliations include Governor Wolf's Advisory Commission on Asian Pacific American Affairs, where he chairs a subcommittee called the AAPI Arts Collective of Pennsylvania.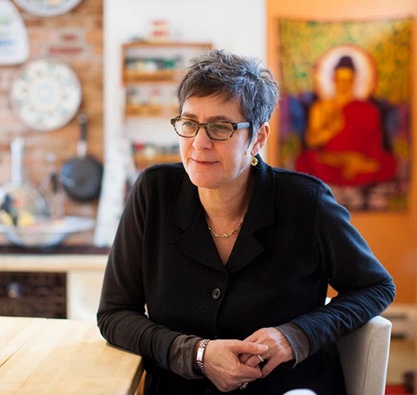 Melissa Franklin, an experimental particle physicist, has had a career of firsts, some scientific, some social. She was part of teams that discovered two elementary particles: the top quark at Fermilab and the Higgs boson at CERN. In 1992, she became the first woman to earn tenure in Harvard's Physics Department.
Chess and sports helped to shape Franklin's youth in Toronto, along with constant reading. At 16, she enrolled at the University of Toronto and spent her post-freshman-year summer as an intern at the Fermi National Accelerator Laboratory near Chicago. While a student at CERN, she made a legendary bar-room bet with John Ellis which in part led to the naming of Penguin diagrams. For graduate and postdoctoral work she was at Stanford and the University of California, Berkeley; in 1989, she became an assistant professor at Harvard.
Franklin is the Mallinckrodt Professor of Physics, and has been chair of her department since 2010. She is a fellow of the American Physical Society and member of the CDF (Fermilab) and ATLAS (CERN) collaborations. She is a contributor to NPR's RadioLab, CBC's Quirks and Quarks, and is an experienced row boat builder.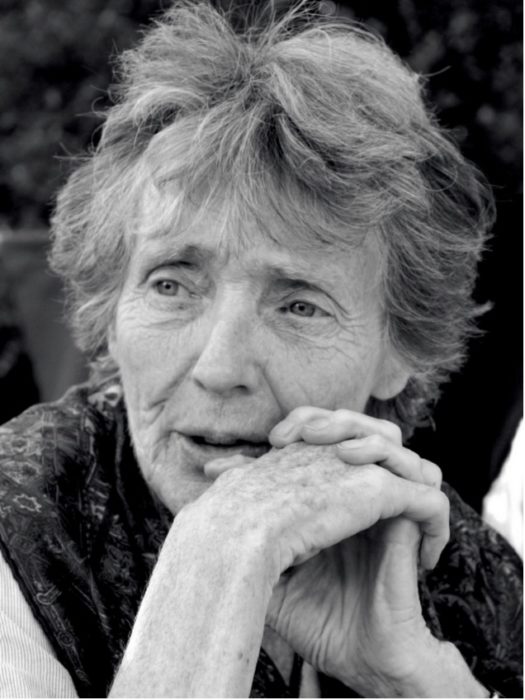 Fanny Howe has authored more than 20 books of poetry and prose. Her latest collection, Love and I, was published in 2019 by Graywolf Press and reviewed in The New Yorker.
Howe grew up in Cambridge, Massachusetts, and studied at Stanford University. "If someone is alone reading my poems, I hope it would be like reading someone's notebook. A record. Of a place, beauty, difficulty. A familiar daily struggle," Howe explained in a 2004 interview with the Kenyon Review. Indeed, more than a subject or theme, the process of recording experience is central to Howe's poetry. Her work explores grammatical possibilities, and its rhythms are generated from associative images and sounds.
She is a member of the Academy of American Poets and has received awards from the National Endowment for the Arts, the National Poetry Foundation, the California Council for the Arts, and the Village Voice, as well as fellowships from the Bunting Institute and the MacDowell Colony. Her Selected Poems won the 2001 Lenore Marshall Poetry Prize. In 2001 and 2005, Howe was short-listed for the Griffin Poetry Prize. In 2008 she won an Award in Literature from the American Academy and Institute of Arts and Letters. She was awarded the Ruth Lilly Poetry Prize in 2009. And in 2014, her Second Childhood was selected as a finalist for the National Book Award. Last fall, Howe was honored at Graywolf's 45th anniversary event at the Folger Shakespeare Library in Washington, DC, and Poet's House in New York City presented "A Tribute to Fanny Howe" in December 2019.
Howe taught for almost 20 years in Boston, at MIT, Tufts University, and elsewhere, before taking a job at the University of California at San Diego, where she is professor emerita. In 2012 she was the inaugural visiting writer in the Creative Writing Program at the University of Massachusetts-Boston. In January 2020, she was honored by Poets House in NYC with a reading Her papers are housed at Stanford University. She lives in Cambridge, Massachusetts.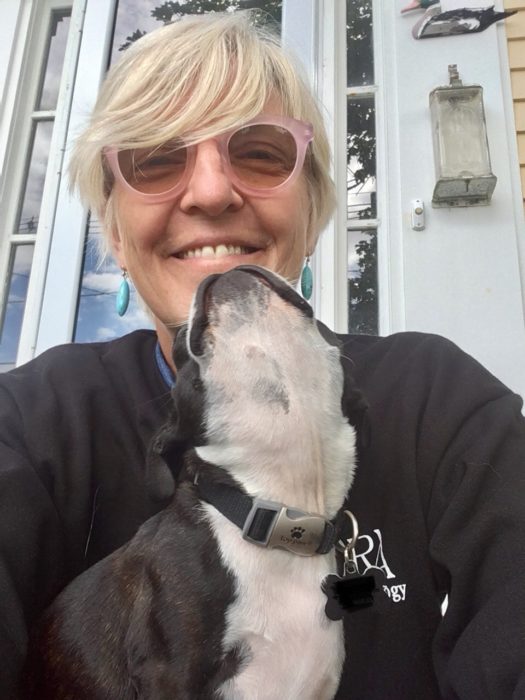 Helen Molesworth is a leading American curator of contemporary art and writer. Her major exhibitions include: One Day at a Time: Manny Farber and Termite Art; Leap Before You Look: Black Mountain College 1933–1957; Dance/Draw; This Will Have Been: Art, Love & Politics in the 1980s; Part Object Part Sculpture, and Work Ethic. She has organized monographic exhibitions of Moyra Davey, Louise Lawler, Steve Locke, Anna Maria Maiolino, Josiah McElheny, Kerry James Marshall, Catherine Opie, Amy Sillman, and Luc Tuymans. She is the author of numerous catalogue essays and her writing has appeared in Artforum, Art Journal, Documents, and October. The recipient of the 2011 Bard Center for Curatorial Studies Award for Curatorial Excellence, she is a founding board member of The Underground Museum and serves as the Curator-in-Residence for the Anderson Ranch in Aspen. She is currently at work on a book about art, love, and freedom, and she recently hosted a podcast series called "Recording Artists" with The Getty.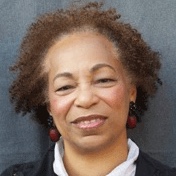 Bari Scott is executive director of SoundVision Productions, an independent nonprofit production company specializing in science documentary journalism and training. Her work has won major journalistic awards, including a Peabody, Robert Wood Johnson, duPont-Columbia Silver Baton, the Science Journalism "Pinnacle of Excellence" award, and the Kavli Awards from AAAS, and honored by organizations including the Corporation for Public Broadcasting, the Society of Professional Journalists, the National Federation of Community Broadcasters, the American Institute of Biological Sciences, and the Association of Women in Communications. She is an alumna of MIT's Knight Science Journalism Fellowship program and the Woods Hole Marine Biology Laboratory's science journalism program. SoundVision's documentary series, which have aired on hundreds of public radio stations nationwide, include: The Adaptors: Taking on Climate Change, BURN: An Energy Journal,The Really Big Questions, and The DNA Files. SoundVision's science literacy training program has supported professional development for scores of NPR journalists, freelance reporters, and those working in station newsrooms across the country.
Scott's earlier award-winning work includes: The Racism Project; The Communications Revolution; The Grateful Dead Live New Year's Eve national broadcast; Jimi Hendrix; and Blacks and Jews, a documentary that premiered at the Sundance Film Festival and aired on the PBS series POV. She has also produced music and arts specials and live events featuring everyone from the Dalai Lama to Nelson Mandela. Scott served on the Distribution Interconnect Committee of the NPR Board, is board emeritus of the Metcalf Institute for Marine and Environmental Reporting, and serves on several local Bay Area Boards. She is a long-standing member of AIR, the Association of Independents in Radio, Inc.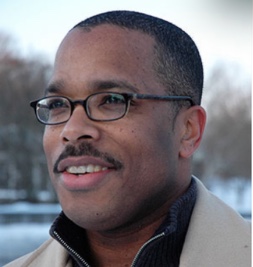 Noland Walker, senior vice president of content at the Independent Television Service (ITVS), is responsible for cultivating long-form documentary series for public television, including overseeing production funding, and building content partnerships with other organizations working in the field. He previously served as senior director of content for ITVS after an award-winning career making films including documentary series Eyes on the Prize, Africans in America, Citizen King, Jonestown: The Life and Death of Peoples Temple, and Boogie Man: The Lee Atwater Story. Prior to joining ITVS, Walker served as AIR's executive editor of Localore, managing a broad field of independent and public media station talent engaged in local communities across the United States. He earned his bachelor's degree in English at Howard University.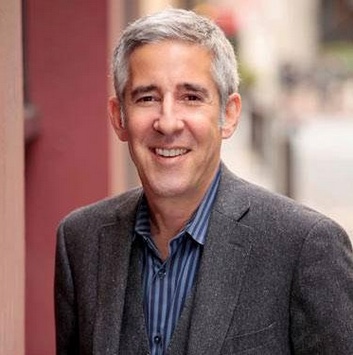 Spencer Weisbroth is an attorney based in Haarlem, The Netherlands. For many years, he built a practice based in San Francisco, CA serving an eclectic clientele of entrepreneurs, non-profit innovators, media producers, and creatives. His clients include San Francisco bars and bookstores, venture backed technology companies, podcasting stars, and international concerns. His practice is focused on strategic advice, complex business transaction, business formation, and structural planning.  Weisbroth has a diverse background in the law, business, media and the arts, and is credited as both producer and lawyer on numerous award-winning public radio documentaries. He was awarded a Peabody for his legal services to one show. In the past, Spencer was Business Affairs Director for the Grammy Award-winning Kronos Quartet, was a founding member and Director for Starter Fluid, a venture capital fund in San Francisco, and was an attorney in the Business Affairs office of the Corporation for Public Broadcasting.  Spencer holds a J.D. degree from the University of Maryland School of Law, and a B.A., with dual majors of Political Science and Journalism, from the State University of New York.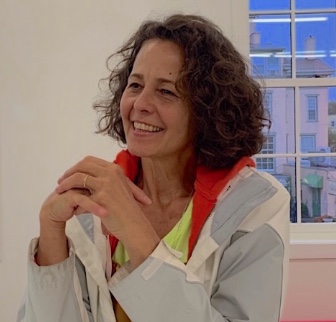 Sue Schardt, executive producer of Margin Media, approaches her original work with an understanding that the vulnerability of the maker, the subject, and the viewer or listener are deeply intertwined.
She brings to Margin Media decades of experience as a DJ, multimedia producer, strategist, and CEO. She writes and presents frequently on media-technology in the U.S and abroad, including at the 2017 3D Journalism Conference in Moscow, the Australian Centre for Moving Image's Co-Creative Communities forum, NEA's National Council meeting, the European Radio Features "think tank" in Leipzig, and the FCC's Future of Media in the Digital Age. In 2015, she served as a delegate to the National Public Broadcasting Corporation of the Ukraine. Schardt created Localore, a national production designed to expand the impact of public media in local communities large and small and, as CEO of AIR, led a movement toward building a more inclusive media-talent pipeline. She has served on the NPR Board's Distribution and Interconnect Committee, and as an advisor to Native Voice One.
Schardt is an accomplished swimmer, musician, and DJ. Her program In the Margin of the Other was featured in a major exhibition curated by Helen Molesworth – One Day at a Time: Manny Farber and Termite Art – at the Museum of Contemporary Art in Los Angeles. Her work has been supported by the Wyncote Foundation, the Corporation for Public Broadcasting, the Ford Foundation, the John D. and Catherine T. MacArthur Foundation, New York State Council on the Arts, the National Endowment for the Arts, the Philadelphia Foundation, and through private donations.
Schardt seeks in all forms to discern and represent the deepest expressions of the human experience; to honor the inexplicable effect when we are touched, moved, or healed through story, image, music, or sound, as it brings us into immanence with ourselves and with one another. It can happen in an instant.