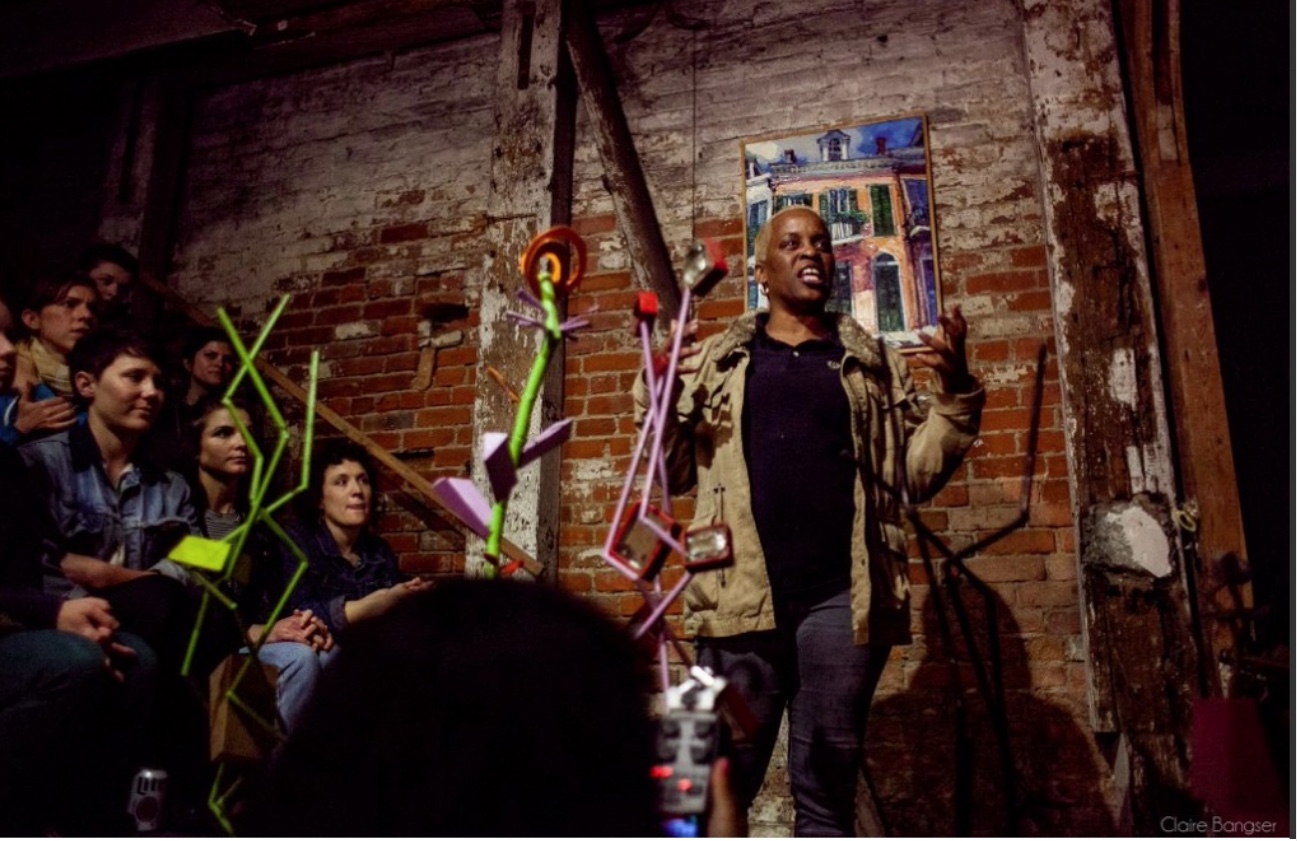 AIR's Localore: Finding America production in New Orleans, "Unprisoned: Stories from the System," presented a live storytelling event in March as part of a fantastic on-going series called BYO…Bring Your Own. There were 9 storytellers — ex-cons, men on parole, girlfriends/sisters/mothers of men in prison. The audience of 300 was mostly white Millennials. Eve Abrams is our lead producer embedded at WWNO, and Lane Kaplan Levinson is the brain behind the series. New Orleans is called 'the incarceration capital of the world." African Americans make up 60% of the population of NOLA, with a prison population that is 85% black.
It was an extraordinary evening. These were my remarks:
It's an honor to be here tonight. Your stories are powerful. I'm so grateful to you for sharing them.
Stories make us human. The act of sitting across the table from another person – meeting them eye to eye – the act of standing up on a stage to share what is burning in your mind, that comes the deepest part of you, is an act of courage. Each time you do this is a demonstration of your power.
There is power in this because, when you choose to tell a story out loud, to have to overcome the fear you may have in committing this act, you are bearing witness to what it is to be a human being.
You are demonstrating what is it to be alive in the world, and you are making it possible for another person to see themselves reflected in your experience. It is an act of helping; an act of healing.
Dr. Howard Thurman was a powerful preacher. He understood this about story. He called it "the sound of the genuine." Here's what he said in 1980; his commencement address at Spelman College. Spelman, as you may know, was the first black university in America. It was founded in 1881 – an all black women university.
The sound of the genuine is flowing through you. Don't be deceived and thrown off by all the noises that are a part even of your dreams, your ambitions, all of these things…that you don't hear the sound of the genuine in you, because that is the only true guide that you will ever have and if you don't that you don't have a thing.
Cultivate the discipline of listening to the sound of the genuine in yourself.
Now there is something in everybody that waits and listens for the sound of the genuine in other people. And it is so easy to say that anybody who looks like him or her; anybody who acts as this person acts or the other, simply, there can't be any sound of the genuine there. I must wait and listen for the sound of the genuine in you. I must wait. For if I cannot hear it, then in my scheme of things, you are not even present. And everybody wants to feel that everybody else knows that she is there.
I want you to know that there are thousands of people working across this country right now who understand this. We work in public media. We are part of a system of stations across the country, part of a network of passionate producers who are part of my organization – AIR — figuring out how to make it possible for us to hear the sound of the genuine from you. We call ourselves Localore, and our production is Finding America.
From here on Elyssian Field Ave in New Orleans, to the streets of Baltimore and Milwaukee, and Tulsa, and Anacostia, Ensley in Birmingham, Yupik villages outside of Anchorage in Alaska…. Stories from all of the people.
Eve Abrams is the brilliant independent producer who made this happen tonight, with Lane Kaplan Levinson. Thank you. And Paul Maessen. He runs one of the public radio station here, WWNO. He, and his staff at the station…they're our partners. Julia Kumari Drapkin, another amazing Localorian who created iSeeChange. And WWOZ's manager David Freedman. He's on my board. He understands. Adriana Gallardo and Joanie Tobin who are down here with me today from Dorchester, Massachusetts. We are all Finding America.
We have the Corporation for Public Broadcasting and Pat Harrison behind us. David Haas and the Wyncote Foundation in Philadelphia, The Ford Foundation and the MacArthur Foundation. The National Endowment for the Arts. We all owe them our gratitude.
I am so glad to have you be part of this work. Thank you for having us. Thank you for all you've brought to make this evening possible.
photo of storyteller Dolfinette Martin taken by Claire Bangser